Leo Daily Horoscope Prediction
"Just like the Lion, I am regal in the true sense. Call me Leo, the kindest of all. I am energetic, enthusiastic and outgoing. Ruled by the Sun, I hold the trait of a leader. Here I am, ambitious by nature, straightforward and charismatic, I am everything that a lion is known for."
19 November 2019 for Leo

personal life horoscope

Use your natural sense of warmth to impress. Romance is definitely in the air.

profession horoscope

Don't let someone twist your words. Take notes of everything that happens.

health horoscope

Lack of energy? Rest up and start again tomorrow.

emotions horoscope

Think about a decision before you rush into it.

travel horoscope

Work travel might be all-consuming this month for you, Leo. Just try to enjoy it.

luck horoscope

Luck is a mystery, and it most definitely doesn't favour anyone.

20 November 2019 for Leo

personal life

If you aren't ready for a romance to change, then be honest about this. Having open conversations is necessary to make something work.

profession

Be patient. You know what you're doing and you are more than capable of achieving it.

health

Slow down. Mind your immune system this month.

emotions

If you don't want to talk about something, people will understand.

travel

Make your travel dreams come true. You can do it.

luck

Don't let the idea of luck control you.

21 November 2019 for Leo

personal life

You might receive a thoughtful gift this week from a love interest. Maybe your relationship is more serious than you thought?

profession

Money worries can be all-consuming. Get on top of this if you need to.

health

If keeping a fitness routine isn't your vibe, research some personal trainers in your area. This could be the start of something exciting.

emotions

Let go of negative energy today, who needs it anyway!?

travel

Live for you, and go where you want to go.

luck

A new day brings new luck.


---
Characteristic
As majestic and impressive as the Lion that represents their sign, Leos are the natural leaders of the zodiac. Radiantly enthusiastic, magnanimous with their charm and gifts, and fiercely proud and confitlent_ Leoslove and live life to the fullest and expect, indeed need In be at the helm at home, Work, and play. Wonderfully affectionate, dramatic, and creative — there are many Leos among the actors of the world — Leos hate srnall~ mindedness and nit-picking. But they themselves arc occasionally stubborn, autocratic, and dogmatic.
---
---
Strength
Creative, Passionate, Generous, Humorous
---
Weakness
Arrogant, Stubborn, Lazy, Inflexible
---
Favorable Colors
Gold Yellow Orange
---
Favorable Numbers
1 3 10 19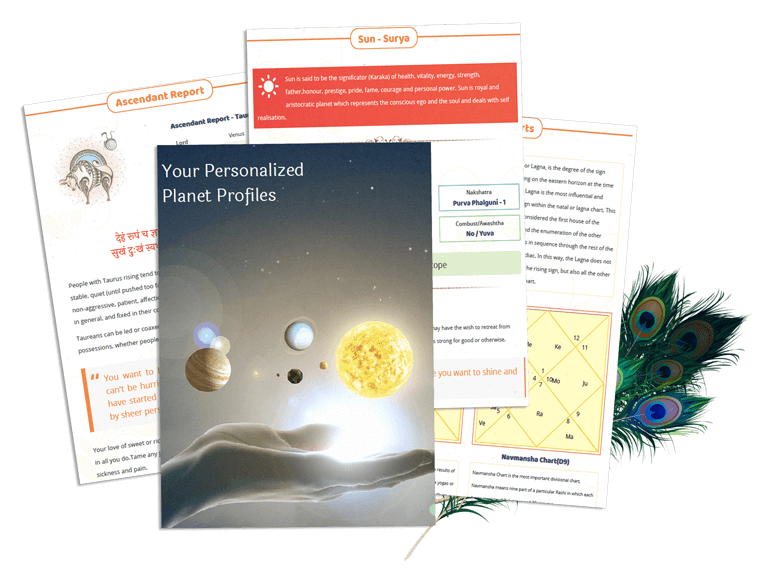 Your personalised horoscope analysis has never been this easier.
Kundli PDF is one of our premium and unique offering with 70 pages of detailed horoscope analysis ranging from dosha analysis, numerological forecasts to detailed predictions and malefic, benefic or yogakaraka aspect of each planet in your kundli.
Know more about Premium Kundli