Aquarius Daily Horoscope Prediction
"Being Aquarius is creative! Besides my acute sense of art, I believe in giving the best kick-starts. Call me an absolute dreamer while I'm popular for my eccentric approach. Here I am, tend to hold the future of an artist, painter or philosopher."
18 April 2021 for Aquarius

personal life horoscope

Don't feel like you need to please everyone all the time. If a love interest or partner is expecting too much of you then let them know.

profession horoscope

Creativity is what gets you noticed. Use your imagination and don't always feel the need to play it safe.

health horoscope

You are looking and feeling great. It's obvious to everyone around you. Keep doing you're doing.

emotions horoscope

Heightened emotions can cloud judgements. If you need to make a decision, wait until the initial feelings pass.

travel horoscope

Be content at the moment and you will enjoy a journey inward.

luck horoscope

You are more than capable of getting everything you want in life.

19 April 2021 for Aquarius

personal life horoscope

High hopes can sometimes lead to failure. Be realistic about your love life. If someone isn't making you happy, you need to acknowledge it.

profession horoscope

Financially planning is never fun. But you must do it or you'll have a tough month ahead, Aquarius

health horoscope

Healthy living can be so easy and then so difficult. Don't force something. If you want to treat yourself, then go for it.

emotions horoscope

Work through any issues you are having and you will notice a newfound calmness.

travel horoscope

Use your weekend to go to a local hangout with friends. Your home has everything you need.

luck horoscope

Owning your bad luck can turn it all around.

20 April 2021 for Aquarius

personal life horoscope

Love won't always wait for you. So, don't get too comfortable, or you might miss it.

profession horoscope

A job is only a job at the end of the day. Don't take worries home with you. You aren't being paid for that.

health horoscope

Nurture your mind as often as you can. It is the gateway to overall wellbeing.

emotions horoscope

Your life has had a lot of twists and turns lately, but things are on the up

travel horoscope

A full social calendar means lots of travel, but lots of great memories, too!

luck horoscope

Today is the day to realise and go for your goals.
Aquarius
January 21 - February 19


---
Characteristic
Often considered the most enigmatic of the zodiac children, Aquarians are fiercely individualistic and independent intellectuals who rarely form permanent relationships with anyone. Nevertheless, they are also noted for being friendly, kind, helpful, and caring; and they are possessed of deep humanitarian instincts. Still. they always remain quintessentially private people. Aquarians are gifted with inventiveness, originality. and creativity, and they are equally comfortable working in such disparate worlds as social work and science.
---
---
Strength
Progressive, Independent, Humanitarian
---
Weakness
Temperamental, Uncompromising, Aloof
---
Favorable Colors
Light blue Silver
---
Favorable Numbers
4 7 11 22 29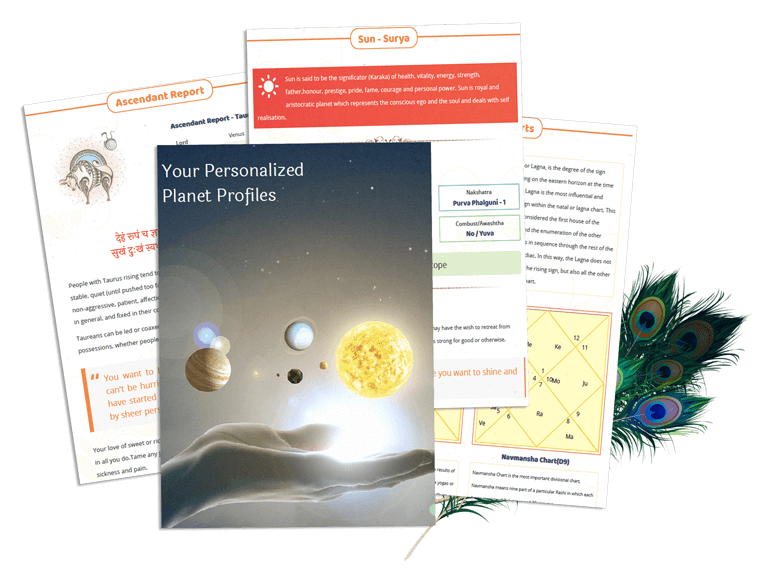 Your personalised horoscope analysis has never been this easier.
Kundli PDF is one of our premium and unique offering with 70 pages of detailed horoscope analysis ranging from dosha analysis, numerological forecasts to detailed predictions and malefic, benefic or yogakaraka aspect of each planet in your kundli.
Know more about Premium Kundli