Sagittarius Daily Horoscope Prediction
"Ruled by Jupiter, I live by the notion of endless possibilities. Optimistic is what they call me! I've got an independent spirit to inspire others. Here I am, full of adventure and passion that control my desires. I Sagittarius, hold a belief of being honest and keeping things real."
19 November 2019 for Sagittarius

personal life horoscope

A romantic encounter might be playing on your mind. Why not go for it?

profession horoscope

With energiser Mars in your eighth house you may be feeling more motivated than usual. Harness this power for a productive work week.

health horoscope

Essential oils and relaxation will keep you calm today.

emotions horoscope

You need to work through your difficult feelings.

travel horoscope

Other people's views and travel ideas are insightful. Listen to them for some guidance.

luck horoscope

Don't envy anyone else. You have everything you need.

20 November 2019 for Sagittarius

personal life horoscope

Mercury is direct in Scorpio today. It's time to brush off the cobwebs and finally address a relationship struggle you've been avoiding.

profession horoscope

A resolution to a work problem will happen today. Celebrate with work friends.

health horoscope

Use your time for you. Don't feel guilty about it

emotions horoscope

Open up to your closest friends. They want to help you.

travel horoscope

If you're content being where you are, then enjoy it.

luck horoscope

Luck doesn't happen automatically.

21 November 2019 for Sagittarius

personal life horoscope

There's an energy to you that makes you intriguing. Use this to approach a love interest today.

profession horoscope

Don't overpromise. You can only do one job, so focus on doing it well.

health horoscope

Look after yourself. Sleep well and stay hydrated.

emotions horoscope

Your moods can change quickly. Try to control this.

travel horoscope

Make sure any travel plans are for enjoyment and not running away.

luck horoscope

Don't rush into a decision that doesn't feel right.
Sagittarius
November 23 - December 22


---
Characteristic
Sagittarians love challenges of all kinds — physical or mental - and throw themselves into intellectual or physical pursuits with boundless and infectious reserves of energy Sagittarians' interests in both purely intellectual pursuits and highly physical adventure underscore their versatile natures and are clearly related to the dual nature of the Archer who symbolizes the sign and who represents the centaur Chiron — a half- rnan, half-horse god who was famed for wisdom and bravery. Sagittarians are often unabashedly optimistic extroverts who draw the admiration and affection of all those they encounter.
---
---
Strength
Generous, Idealistic, Great sense of humor
---
---
---
Favorable Numbers
3 7 9 12 21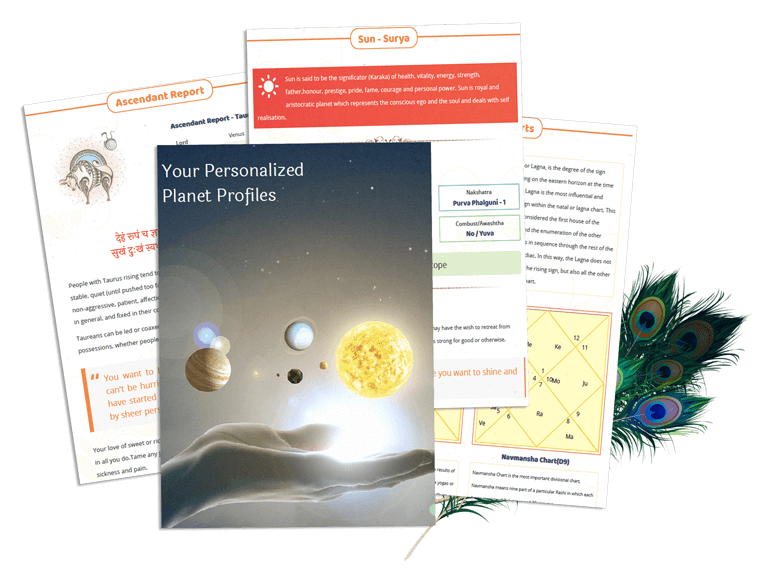 Your personalised horoscope analysis has never been this easier.
Kundli PDF is one of our premium and unique offering with 70 pages of detailed horoscope analysis ranging from dosha analysis, numerological forecasts to detailed predictions and malefic, benefic or yogakaraka aspect of each planet in your kundli.
Know more about Premium Kundli