Sagittarius Daily Horoscope Prediction
"Ruled by Jupiter, I live by the notion of endless possibilities. Optimistic is what they call me! I've got an independent spirit to inspire others. Here I am, full of adventure and passion that control my desires. I Sagittarius, hold a belief of being honest and keeping things real."
18 April 2021 for Sagittarius

personal life horoscope

Independence is something you used to fear. But you are owning it. Don't let love rule.

profession horoscope

Investing in furthering your skills is never a bad idea. If it could help you climb the ladder even further, then why not?

health horoscope

Experiment with new food groups and herbs to keep your diet interesting. It's easy to fall into the same patterns but shaking it up can do wonders for motivation

emotions horoscope

You may be living your best life right now, but take time to gather your feelings when you can.

travel horoscope

Holiday plans are a bit all over the place for you right now, aren't they? Take time to get everything in order.

luck horoscope

Wake up today with a new appreciation for life, and your day will be filled with happiness.

19 April 2021 for Sagittarius

personal life horoscope

This is an excellent healing time for you and a loved one. Use this energy to cultivate new stronger beginnings.

profession horoscope

Personal growth will help you from a career and financial point of view. This is your time to shine.

health horoscope

Don't be afraid to awaken your inner spirituality. This will help and guide you.

emotions horoscope

Bottling feelings can lead to explosions. Watch this.

travel horoscope

Nobody can keep going forever. Take a break.

luck horoscope

Being aware of good fortune is a gift, use it.

20 April 2021 for Sagittarius

personal life horoscope

If a partner is trying to steal your thunder, don't let them. You are your independent person, and nobody can try and change that.

profession horoscope

Don't let drama outside of work impact your career. Focus on you and forget the rest.

health horoscope

Acupuncture, and yoga are excellent alternative ways to release stress. Consider trying them if you have been working hard.

emotions horoscope

Laugh when you can. This is the best medicine

travel horoscope

Life is all about experiences. You know this better than anyone. Travel as much as you can.

luck horoscope

Don't judge other people's actions. It won't bring you any luck.
Sagittarius
November 23 - December 22


---
Characteristic
Sagittarians love challenges of all kinds — physical or mental - and throw themselves into intellectual or physical pursuits with boundless and infectious reserves of energy Sagittarians' interests in both purely intellectual pursuits and highly physical adventure underscore their versatile natures and are clearly related to the dual nature of the Archer who symbolizes the sign and who represents the centaur Chiron — a half- rnan, half-horse god who was famed for wisdom and bravery. Sagittarians are often unabashedly optimistic extroverts who draw the admiration and affection of all those they encounter.
---
---
Strength
Generous, Idealistic, Great sense of humor
---
---
---
Favorable Numbers
3 7 9 12 21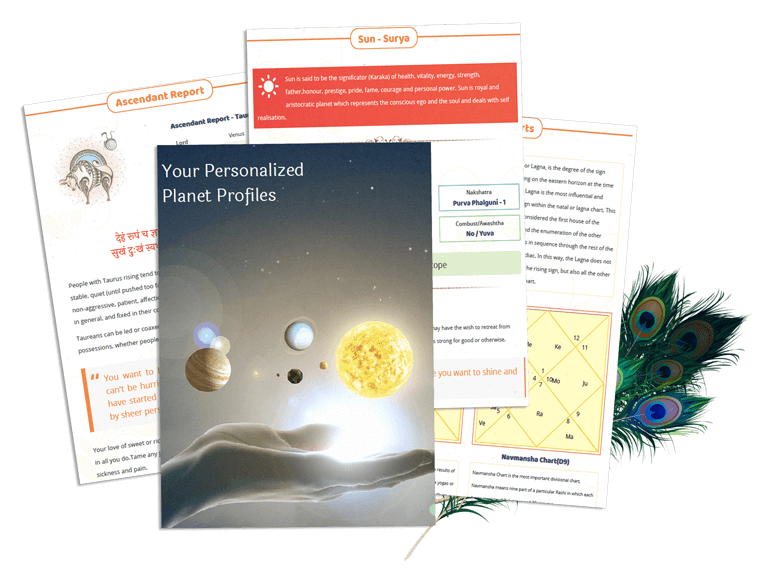 Your personalised horoscope analysis has never been this easier.
Kundli PDF is one of our premium and unique offering with 70 pages of detailed horoscope analysis ranging from dosha analysis, numerological forecasts to detailed predictions and malefic, benefic or yogakaraka aspect of each planet in your kundli.
Know more about Premium Kundli