Gemini Daily Horoscope Prediction
"My energy circulates in so many ways. As a Gemini, I am highly communicative and the thirst to explore is my inner trait. You can call me restless! I have an impressive way with words, love to be social and be around fun. Fascinated by the world, I am here to experience things."
17 July 2019 for Gemini

personal life horoscope

How lucky you are to have so many admirers. There is rebellion in the air, and the last thing you want is to be tied down. Enjoy being single and keep your options open.

profession horoscope

An honest conversation with a boss will help you move forward. An unexpected expenditure throws your budget. A few small readjustments might be needed but don't worry.

health horoscope

Working out is vital for every part of our body, including our mind. Don't lose sight of this.

emotions horoscope

Whatever you are feeling today, feel it in all its glory. If that's grief or happiness just know that emotions need to be dealt with

travel horoscope

Don't over promise yourself to family and friends. Only do what you can afford.

luck horoscope

Some days can feel never-ending. However, the end can make you appreciate every minute.

18 July 2019 for Gemini

personal life horoscope

Every relationship must go through ups and downs. Committing to someone isn't about perfection all the time. It is about learning how to deal with the imperfect. Remember this if a difficult conversation comes up today

profession horoscope

If you feel like you have been working too much lately, be open and honest. Also, make sure that you are getting paid for the extra work.

health horoscope

Setting ourselves new goals and challenges can keep us motivated. If you feel tired of the same routine, change it up

emotions horoscope

Your mind might be uneasy today. Stay calm and meditate to work through the chaos.

travel horoscope

Never let pressure rule your travel decisions. Do what feels right for you.

luck horoscope

Don't assume your luck will change. Change it yourself.

19 July 2019 for Gemini

personal life horoscope

The lunar eclipse has brought about some deep emotions. These need to be addressed for your love life to move forward

profession horoscope

Someone may test you today. Try and stay calm and talk through any issues rationally.

health horoscope

Comparing yourself to other people is never any good. Focus on your own goals and your own journey. Only then will you notice all the positive changes.

emotions horoscope

Words aren't everything. Sometimes people say things they don't mean. Don't let this upset you.

travel horoscope

Visiting a new place in your area will make you realise how much you have right on your doorstep.

luck horoscope

What other people have doesn't necessarily make them any luckier than you.


---
Characteristic
Geminians are lively, restless, quick-witted, last thinking, mercurial creatures who rarely stay in one place — physically or philosophically — for long, They are marvellous communicators and easily sway people to their own ideas and opinions. Geminians detest boredom — indeed, they run from it — and often preler spreading their considerable emotional and intellectual energies among a variety of tasks (and peoplel). This ability to do several things at once is typical of the Geminians dual nature' aptly represented by the Twins. Poorly channelled. however, the Geminians inability to settle down with one thing or one person can lead to the appearance of shallowness and a tendency to gloss over the important details of life.
---
---
Strength
Gentle, Affectionate, Curious, Adaptable
---
Weakness
Nervous, Inconsistent, Indecisive
---
Favorable Colors
Light green Yellow
---
Favorable Numbers
5 7 14 23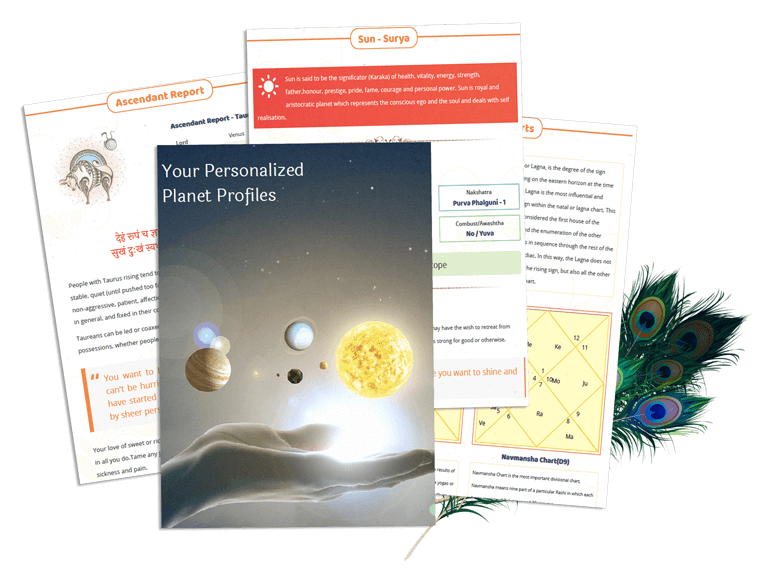 Your personalised horoscope analysis has never been this easier.
Kundli PDF is one of our premium and unique offering with 70 pages of detailed horoscope analysis ranging from dosha analysis, numerological forecasts to detailed predictions and malefic, benefic or yogakaraka aspect of each planet in your kundli.
Know more about Premium Kundli