Gemini Daily Horoscope Prediction
"My energy circulates in so many ways. As a Gemini, I am highly communicative and the thirst to explore is my inner trait. You can call me restless! I have an impressive way with words, love to be social and be around fun. Fascinated by the world, I am here to experience things."
18 April 2021 for Gemini

personal life horoscope

Don't make promises you can't keep. It will lead to a lack of trust.

profession horoscope

If finances aren't the way you would like them to be right now, try picking up some extra work. Not only will it give you peace of mind, but it's a great way to meet new people, too.

health horoscope

Your body knows what it needs. Use this intuition to feed it properly.

emotions horoscope

Take the good times with the bad. They help shape you.

travel horoscope

A diversion might be inconvenient but don't let it ruin your day.

luck horoscope

Be open to new conversations and new people. You never know the luck it will bring.

19 April 2021 for Gemini

personal life horoscope

Anything is possible in love. The New Moon will bring about conversations that needed to happen.

profession horoscope

You have come so far in your role. Just remember this if you are doubting your abilities

health horoscope

If something isn't working in your routine, drop it. There's no point trying to force it.

emotions horoscope

Feelings can often confuse. Positively working through them is all part of growing

travel horoscope

A trip to the beach for some relaxation is the perfect Saturday getaway.

luck horoscope

When all is said and done know that your own experiences will be luckier than anyone

00 December for Gemini

personal life horoscope

profession horoscope

health horoscope

emotions horoscope

travel horoscope

luck horoscope


---
Characteristic
Geminians are lively, restless, quick-witted, last thinking, mercurial creatures who rarely stay in one place — physically or philosophically — for long, They are marvellous communicators and easily sway people to their own ideas and opinions. Geminians detest boredom — indeed, they run from it — and often preler spreading their considerable emotional and intellectual energies among a variety of tasks (and peoplel). This ability to do several things at once is typical of the Geminians dual nature' aptly represented by the Twins. Poorly channelled. however, the Geminians inability to settle down with one thing or one person can lead to the appearance of shallowness and a tendency to gloss over the important details of life.
---
---
Strength
Gentle, Affectionate, Curious, Adaptable
---
Weakness
Nervous, Inconsistent, Indecisive
---
Favorable Colors
Light green Yellow
---
Favorable Numbers
5 7 14 23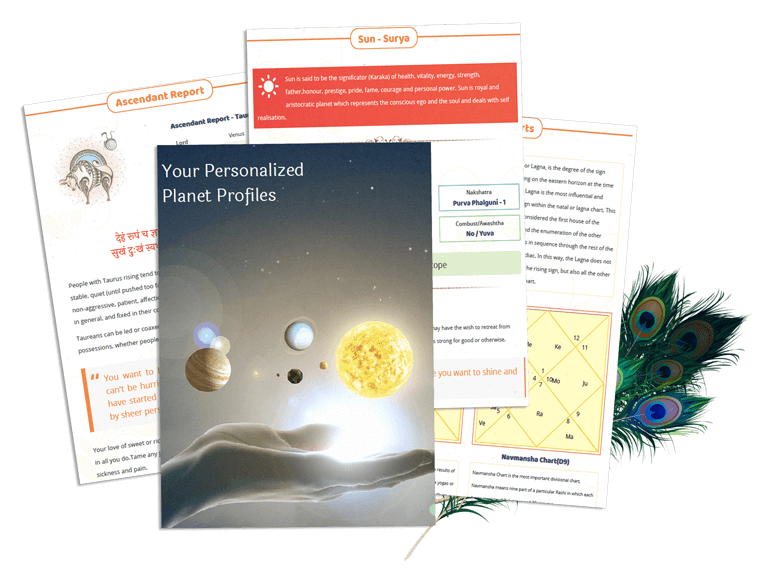 Your personalised horoscope analysis has never been this easier.
Kundli PDF is one of our premium and unique offering with 70 pages of detailed horoscope analysis ranging from dosha analysis, numerological forecasts to detailed predictions and malefic, benefic or yogakaraka aspect of each planet in your kundli.
Know more about Premium Kundli