Gemini Daily Horoscope Prediction
"My energy circulates in so many ways. As a Gemini, I am highly communicative and the thirst to explore is my inner trait. You can call me restless! I have an impressive way with words, love to be social and be around fun. Fascinated by the world, I am here to experience things."
19 November 2019 for Gemini

personal life horoscope

Don't let what other people say infiltrate your mind too much. Do what is right for you.

profession horoscope

Lean on a work friend for help today. You may find you learn a new skill from them.

health horoscope

With Mercury in retrograde, you may be feeling out of sorts. Normality is coming.

emotions horoscope

Don't force yourself to feel a certain way. It's normal to have bad days.

travel horoscope

Don't put yourself under pressure to be everywhere this week.

luck horoscope

Luck and chance are very similar.

20 November 2019 for Gemini

personal life horoscope

Mercury retrograde goes direct today which means that reconnecting might be on the cards today. Have that talk that seemed impossible for the last few weeks.

profession horoscope

Check that your work is up to date and complete today. You don't want to get caught out.

health horoscope

The convenience trap is an easy one to fall into. But take the time to look after your diet.

emotions horoscope

If you need headspace to make sure you are taking time away from a hectic lifestyle.

travel horoscope

Don't rush into a travel decision. Weight up the facts first.

luck horoscope

Whatever life gives you, take it with a pinch of salt.

21 November 2019 for Gemini

personal life horoscope

Overanalysing small details can make them seem bigger than they are. Don't let this ruin a good thing.

profession horoscope

If someone doesn't want to see things from your point of view, don't get angry. Keep a rational head.

health horoscope

If you are feeling slightly off-kilter visit somewhere peaceful. This will help.

emotions horoscope

Don't be too hard on yourself for the way you feel.

travel horoscope

Make sure all travel plans are confirmed.

luck horoscope

Take chances and you will be rewarded.


---
Characteristic
Geminians are lively, restless, quick-witted, last thinking, mercurial creatures who rarely stay in one place — physically or philosophically — for long, They are marvellous communicators and easily sway people to their own ideas and opinions. Geminians detest boredom — indeed, they run from it — and often preler spreading their considerable emotional and intellectual energies among a variety of tasks (and peoplel). This ability to do several things at once is typical of the Geminians dual nature' aptly represented by the Twins. Poorly channelled. however, the Geminians inability to settle down with one thing or one person can lead to the appearance of shallowness and a tendency to gloss over the important details of life.
---
---
Strength
Gentle, Affectionate, Curious, Adaptable
---
Weakness
Nervous, Inconsistent, Indecisive
---
Favorable Colors
Light green Yellow
---
Favorable Numbers
5 7 14 23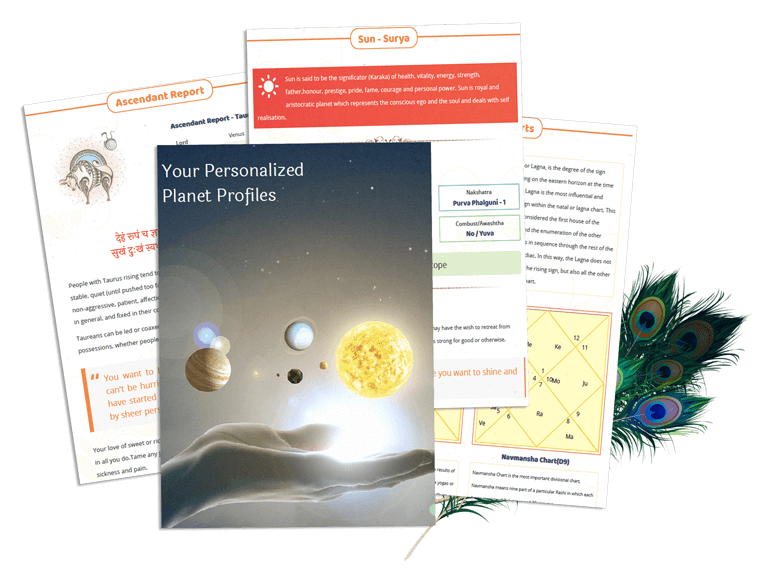 Your personalised horoscope analysis has never been this easier.
Kundli PDF is one of our premium and unique offering with 70 pages of detailed horoscope analysis ranging from dosha analysis, numerological forecasts to detailed predictions and malefic, benefic or yogakaraka aspect of each planet in your kundli.
Know more about Premium Kundli