Gemini Daily Horoscope Prediction
"My energy circulates in so many ways. As a Gemini, I am highly communicative and the thirst to explore is my inner trait. You can call me restless! I have an impressive way with words, love to be social and be around fun. Fascinated by the world, I am here to experience things."
17 September 2019 for Gemini

personal life horoscope

Your day will be filled with PDAs and affection from a lover. It's exactly what you need.

profession horoscope

A challenging day in the workplace will prove your worth. Be confident in your own decisions and abilities.

health horoscope

Stick to your fitness plans. Call in a friend for extra motivation if needed.

emotions horoscope

Go above and beyond to make someone will special today. You'll feel the love.

travel horoscope

Don't get stressed if travel plans aren't coming together as well as they should. It will all work out.

luck horoscope

Adjust your viewpoint to open your eyes.

18 September 2019 for Gemini

personal life horoscope

If a row has left you feeling disappointed, then talk it through and resolve the issue. Communication is key.

profession horoscope

Someone may be trying to steal credit for your work. Be mindful of this.

health horoscope

Getting tired of the same meals and routine? You have the power to change this.

emotions horoscope

Let other people help you if you need it.

travel horoscope

There is the prospect of a family trip coming your way.

luck horoscope

A series of unfortunate events might have you questioning your luck, but good changes are coming.

19 September 2019 for Gemini

personal life horoscope

Love takes time and work. If it isn't perfect right now, it's up to you to work at it.

profession horoscope

If you need to make changes to your work based on income, then now is the week to do it. Start planning or researching your next big move.

health horoscope

Natural and healthy living is possible with a few small changes. Do some research and make these changes for a clearer mind.

emotions horoscope

Go with your gut feeling, it won't let you down.

travel horoscope

Frequent trips are all in your diary this year. Make the most of them all.

luck horoscope

Not all luck is obvious right away.


---
Characteristic
Geminians are lively, restless, quick-witted, last thinking, mercurial creatures who rarely stay in one place — physically or philosophically — for long, They are marvellous communicators and easily sway people to their own ideas and opinions. Geminians detest boredom — indeed, they run from it — and often preler spreading their considerable emotional and intellectual energies among a variety of tasks (and peoplel). This ability to do several things at once is typical of the Geminians dual nature' aptly represented by the Twins. Poorly channelled. however, the Geminians inability to settle down with one thing or one person can lead to the appearance of shallowness and a tendency to gloss over the important details of life.
---
---
Strength
Gentle, Affectionate, Curious, Adaptable
---
Weakness
Nervous, Inconsistent, Indecisive
---
Favorable Colors
Light green Yellow
---
Favorable Numbers
5 7 14 23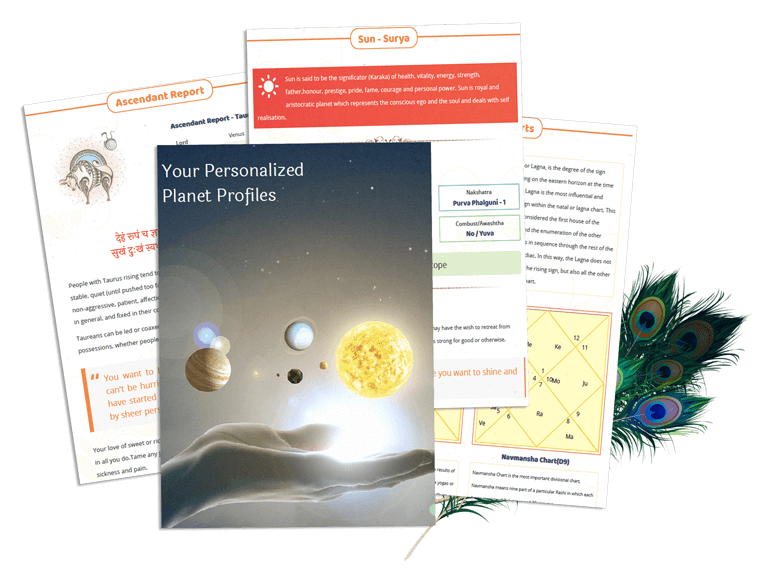 Your personalised horoscope analysis has never been this easier.
Kundli PDF is one of our premium and unique offering with 70 pages of detailed horoscope analysis ranging from dosha analysis, numerological forecasts to detailed predictions and malefic, benefic or yogakaraka aspect of each planet in your kundli.
Know more about Premium Kundli