Gemini Daily Horoscope Prediction
"My energy circulates in so many ways. As a Gemini, I am highly communicative and the thirst to explore is my inner trait. You can call me restless! I have an impressive way with words, love to be social and be around fun. Fascinated by the world, I am here to experience things."
31 July 2021 for Gemini

personal life horoscope

There is a big problem in your relationship and that's dishonesty. Be authentic and talk to your partner and tell them what's happening. Single signs might feel like installing a dating app.

profession horoscope

It's high time that you show your boss what you are capable of. Unemployed signs might get a call from an interested employer. Show them your A game, and you will land the job in no time.

health horoscope

Go for a quick run if you can. You haven't really been eating properly and you are starting to feel the consequences of that. Cut down on salt and carbonated drinks.

emotions horoscope

You are feeling good and stable, despite the situation that you are in. Do your best to maintain this feeling throughout the day.

travel horoscope

If you are traveling to a destination that is at least 10h away by plane, make sure that you have something with you to help you sleep through the flight.

luck horoscope

The number 4 is going to radiate good energy and good luck for you today. Keep your eyes out for this number.

01 August 2021 for Gemini

personal life horoscope

Gemini signs who recently entered a relationship can't get enough of their significant other. Do something special for them and have a nice glass of wine accompanied by a good conversation.

profession horoscope

Material things aren't really what interest you right now. You want experiences, memories and things that don't break or fade away over time.

health horoscope

If you are feeling stressed, try getting a massage. If you are a smoker, you might want to start cutting down on cigarettes.

emotions horoscope

Emotionally, you have never been better. You are still battling your own monsters, but you are doing excellent.

travel horoscope

Today isn't the best day for traveling, but it's a great day to discuss what you want to do and see when you will be traveling.

luck horoscope

With your ruler planet sending you good energy, you will have a lucky day. Look out for the numbers 29 and 18.

02 August 2021 for Gemini

personal life horoscope

Your partner knows that even though you might seem very cold towards the rest of the world, you are actually very lovable and very soft. Compliment them today. Married signs will argue about money.

profession horoscope

There will be a small set back at work today. Nothing that you can't handle. You aren't really thinking much about money, you're thinking about ways in which you can help elderly or sick people.

health horoscope

Running and exercise will be great for your body and mind. Your health is great, but you need to move your body more.

emotions horoscope

Emotionally, you are doing your best to start to feel completely fulfilled. Keep on working on this because it won't be easy.

travel horoscope

If you are traveling today or any time soon, make sure that you take lots of pictures.

luck horoscope

You will have some moderate luck when it comes to your financial situation.


---
Characteristic
Geminians are lively, restless, quick-witted, last thinking, mercurial creatures who rarely stay in one place — physically or philosophically — for long, They are marvellous communicators and easily sway people to their own ideas and opinions. Geminians detest boredom — indeed, they run from it — and often preler spreading their considerable emotional and intellectual energies among a variety of tasks (and peoplel). This ability to do several things at once is typical of the Geminians dual nature' aptly represented by the Twins. Poorly channelled. however, the Geminians inability to settle down with one thing or one person can lead to the appearance of shallowness and a tendency to gloss over the important details of life.
---
---
Strength
Gentle, Affectionate, Curious, Adaptable
---
Weakness
Nervous, Inconsistent, Indecisive
---
Favorable Colors
Light green Yellow
---
Favorable Numbers
5 7 14 23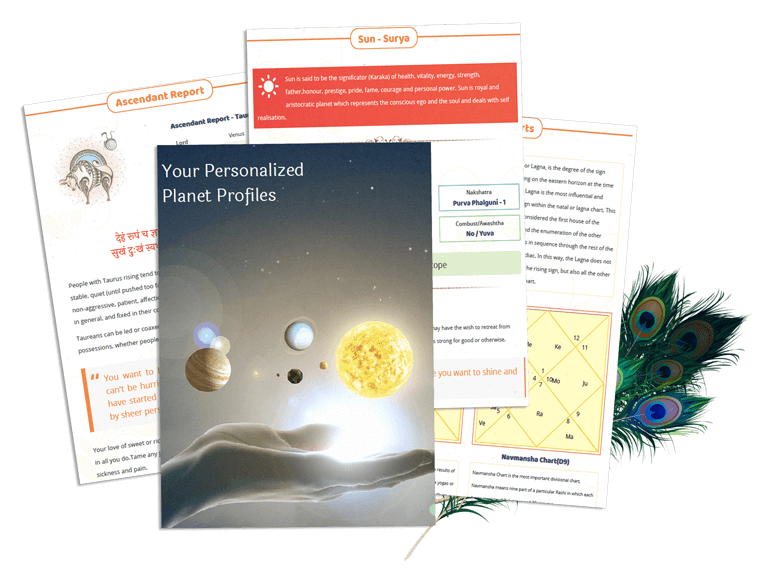 Your personalised horoscope analysis has never been this easier.
Kundli PDF is one of our premium and unique offering with 70 pages of detailed horoscope analysis ranging from dosha analysis, numerological forecasts to detailed predictions and malefic, benefic or yogakaraka aspect of each planet in your kundli.
Know more about Premium Kundli