Gemini Daily Horoscope Prediction
"My energy circulates in so many ways. As a Gemini, I am highly communicative and the thirst to explore is my inner trait. You can call me restless! I have an impressive way with words, love to be social and be around fun. Fascinated by the world, I am here to experience things."
26 October 2021 for Gemini

personal life horoscope

Sexual encounters can be very intense today and that intensity can be disconcerting for Gemini, as the Twins often recoil from this. Gemini like intensity in small doses and so today's dose of it may be more that you are ready for and so be ready to make some excuses and slip away.

profession horoscope

Gemini need to be very careful of mixing finances and friendship as the results can be unpleasant and you can see a very ugly side of a former friend.

health horoscope

Know your limits - Gemini traditionally burn the candle at both ends and go from the extremes of being very healthy to very unhealthy. Today is a case in point and so try and be moderate.

emotions horoscope

Emotions are vibrant and you may become more aware of what turns you on in terms of need, not sexual but emotional.

travel horoscope

Travel with friends to fulfil an aspiration you both have is favoured.

luck horoscope

You are lucky when you put your energy into a project with a very long term objective.

27 October 2021 for Gemini

personal life horoscope

While single Gemini are rather open-minded and adventurous in love, you are not reckless, and while you may experiment socially and on the dating scene this Valentine's Days, you will actually be slow to commit regarding feelings.

profession horoscope

Launch yourself out into the world - have your say, publish your words, express your opinion, and get out of comfort zones. Look for ways to expand your experience of people and places

health horoscope

Gemini often suffer from vacillation and being torn between two options, that is the case right now and it can cause you stress and worry. Don't overthink - let it go and let the solution come to you, it will when you relax.

emotions horoscope

Gemini are seeking not just companionship but all-round expansion in terms of love, and that can mean intellectual and spiritual stimulation from a partner become priorities.

travel horoscope

Mars and Uranus in an exact conjunction in your 11th favour travel for political reasons.

luck horoscope

You are lucky when you make radical new lifestyles changes.

28 October 2021 for Gemini

personal life horoscope

Stop trying to micromanage you and your partner's life - just let go and let life coast along for a little bit without creating this stress over what other's think.

profession horoscope

Gemini are generally very adaptable, however today you are tending to be quite controlling and ridged in your thinking - ask yourself what this stubbornness is achieving?

health horoscope

As Mars enters your 12th house, you have to watch out for the effect that turbulent emotions have on your health - are they making you overeat or just increasing general anxiety and how can you address these emoitons head on?

emotions horoscope

Gemini are feeling a little uneasy today and this is making you resist changes and overreact to threats or perceived threats, allow yourself to be vulnerable and own up to your fears (to yourself, no need to share with others.)

travel horoscope

Long journeys to places where you are going to meet up with new colleagues are favored.

luck horoscope

The ruler of your 11th entering your 12th house means that you are lucky when you keep a secret or confidence.


---
Characteristic
Geminians are lively, restless, quick-witted, last thinking, mercurial creatures who rarely stay in one place — physically or philosophically — for long, They are marvellous communicators and easily sway people to their own ideas and opinions. Geminians detest boredom — indeed, they run from it — and often preler spreading their considerable emotional and intellectual energies among a variety of tasks (and peoplel). This ability to do several things at once is typical of the Geminians dual nature' aptly represented by the Twins. Poorly channelled. however, the Geminians inability to settle down with one thing or one person can lead to the appearance of shallowness and a tendency to gloss over the important details of life.
---
---
Strength
Gentle, Affectionate, Curious, Adaptable
---
Weakness
Nervous, Inconsistent, Indecisive
---
Favorable Colors
Light green Yellow
---
Favorable Numbers
5 7 14 23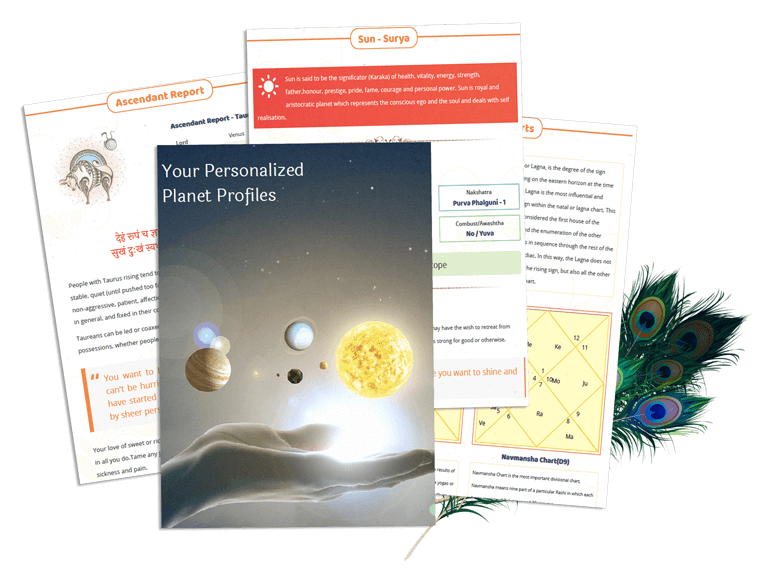 Your personalised horoscope analysis has never been this easier.
Kundli PDF is one of our premium and unique offering with 70 pages of detailed horoscope analysis ranging from dosha analysis, numerological forecasts to detailed predictions and malefic, benefic or yogakaraka aspect of each planet in your kundli.
Know more about Premium Kundli