Virgo Daily Horoscope Prediction
"I am the most independent of all. Call me analytical, observant and reliable. I can be your good friend, a great business partner. My Straight thinking and logical problem solving will make you wish to be around me. Be with me, I'm calm and helpful. "
18 July 2019 for Virgo

personal life horoscope

You might have to make a choice between spending time with someone who excites you or family time. Use your time wisely, no matter what you choose both parties will understand.

profession horoscope

You can pull away due to fear of being criticised. Don't shy away from responsibility or you will self-sabotage your own goals.

health horoscope

Getting the right amount of rest is vital to keep you working at your best. Avoid too many late nights.

emotions horoscope

Being able to step away from negativity to create your own happiness will positively impact you.

travel horoscope

Try to plan within your means. If a travel plan isn't going to be possible, then save it for another time.

luck horoscope

Each bump in the road paves the way for lucky opportunities.

19 July 2019 for Virgo

personal life horoscope

Don't be afraid to say what you feel. It's the only way a real and lasting connection can flourish.

profession horoscope

Being stubborn about how you want things done won't benefit you right now. Be open to other ideas and a better working environment will follow. Try to avoid big purchases, you will only regret them.

health horoscope

Being kind to your mind and body will ensure a healthy life. Don't neglect one aspect for another.

emotions horoscope

Except emotional turbulence but use this to grow.

travel horoscope

Make sure you have all your trips away jotted down. Small or big it can be difficult to keep track and one might get missed.

luck horoscope

Comparison is the thief of joy. You are exactly where you need to be, so don't dwell on others luck.

20 July 2019 for Virgo

personal life horoscope

If you were planning a fancy date, consider scaling down and doing something more low-key. It will give reveal the best version of you.

profession horoscope

You have a strong vision for the future. Today is the day to put your plans into action.

health horoscope

Sometimes a good laugh or cry is all the body needs to release tension and stress. Let it out if you need to.

emotions horoscope

Emotions make us feel alive. Whatever you are feeling, let it be.

travel horoscope

Spend some time within your own space. Cleansing it can give you a renewed sense of peace.

luck horoscope

Good things are coming your way. The planetary shifts are bringing positive changes.
Virgo
August 8 - September 22


---
Characteristic
Virgoans are modest, self-effacing, hardworking, and practical on the surface, but are often earthy, warm, and loving beneath that surface, as befits their zodiac symbol, the Virgin, a composite figure of ancient goddesses of the earth and the harvest. Quick thinking and analytical, Virgoans have so much excess mental energy that they often are subject to stress and tension. Their pertchants for perfection and hard work also incline them towards being over-critical at times. The planet Mercury (the planet of communication) rules Gemini and Virgo. Virgoans are excellent and persuasive communicators who use their keen intellects to win arguments and win over people.
---
---
Strength
Loyal, Analytical, Kind, Hardworking
---
Weakness
Shyness, Worry, All work and no play
---
Favorable Colors
Grey Pale-Yellow Beige
---
Favorable Numbers
5 14 15 23 32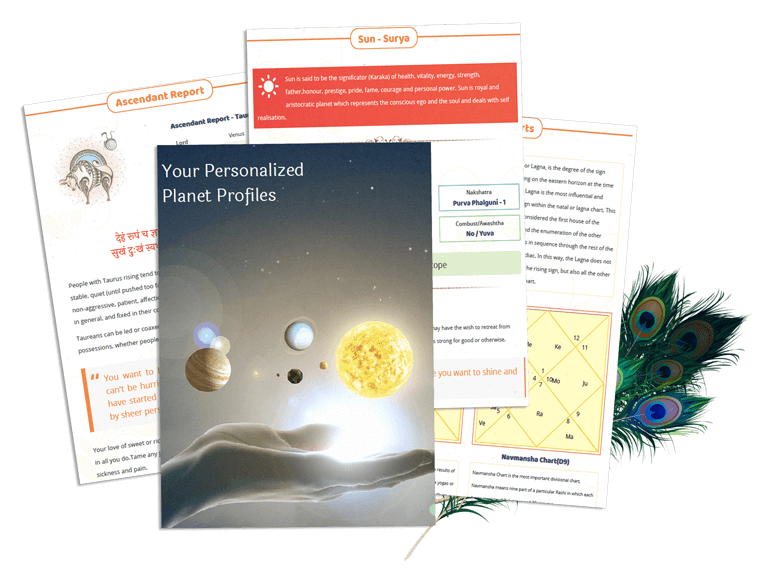 Your personalised horoscope analysis has never been this easier.
Kundli PDF is one of our premium and unique offering with 70 pages of detailed horoscope analysis ranging from dosha analysis, numerological forecasts to detailed predictions and malefic, benefic or yogakaraka aspect of each planet in your kundli.
Know more about Premium Kundli