Pisces Daily Horoscope Prediction
"I absorb the sadness all around. I am all about empathy! I hold the power to feel the pain of others. My sensitivity enables to pursue emotions and needs of people. Here I am, using my energy to be productive and helpful."
23 January 2021 for Pisces

personal life horoscope

Pisces are feeling very sexy and will demand satisfaction in the bedroom, you want full co-operation on a sexual level no half measure or excuses.

profession horoscope

Einstein was Pisces and Pisces are often inventors or designers of state of the art technology; today is a time to think about protecting your ideas from hacking or intellectual theft.

health horoscope

Wear comfortable, worn in shoes, you may be walking longer and further than you expect and nothing ruins a Piscean day like blisters and painful feet.

emotions horoscope

You are very psychic and you pick up on the mood of others, which helps you to be more responsive to them or even more wary of them.

travel horoscope

Travel locally to visit family is favoured.

luck horoscope

You are lucky with your home business and in self-employment.

24 January 2021 for Pisces

personal life horoscope

A new relationship or lover can take you way beyond you comfort zones and while Pisces always go with the flow and are highly adaptable, Uranus may be shaking up your world in ways you never expected and this roller coaster may lead to some internal questioning and revaluation of your values.

profession horoscope

Embrace technology; it is time to get to know your computer, the inner workings of your website or get better acquainted with anti-malware and anti-spy ware as you are entering a phase where you cannot afford not to be teck savvy.

health horoscope

Alternative therapies and homeopathy are well worth a second look in terms of long term health and wellbeing from a prevention and root cause perspective.

emotions horoscope

This is a day to devote time to self care and so make sure you are looking after you own needs and not always prioritising others.

travel horoscope

Travel is favoured for job interviews.

luck horoscope

You are lucky at work when you use specialised skills and talents.

26 January 2021 for Pisces

personal life horoscope

You are quite mysterious and also contradictory right now – make sure you do not get nailed down to specifics as you need to keep your options open and not get trapped into an obligation that suffocates you.

profession horoscope

You need to be sure you do things that enhance your own prospects as doing things for others may not have the payback or reciprocation you anticipate.

health horoscope

Health will come more and more into focus now, but it is positive and there is a chance to resolve an issue or get to the bottom of a psychologically driven problem.

emotions horoscope

You are extremely giving, but could be open to being taken advantage of and so keep your wits about you.

travel horoscope

Travel to improve health and wellbeing or reduce stress is favored.

luck horoscope

Moon in your first house conjunct your ruler, brings luck in spiritual matters.
Pisces
February 20 - March 20


---
Characteristic
Sensitive, sensual, emotional, and richly imaginative and creative, Pisceans are the other-worldly dreamers and poets of the zodiac. Deeply affected by the dual nature of their sign — symbolized by the two fishes swimming in opposite directions - Pisceans are often torn between wanting to do something real and valuable in the world (they are often drawn to humanitarian causes and artistic careers) and retreating from the world altogether to the safer harbours of their private worlds of imagination and dreams. This is an enormous pull for Pisceans, and because of its power, they are often prone to extreme nervous tension and even escapism (sometimes into alcohol and drugs), A lack of self- confidence is almost always at the root of a Piscean's inability to get on with the real world, but when this weakness can be overcome, they are found among the finest humanitarians and artists in the world.
---
---
Strength
Compassionate, Artistic, Intuitive, Gentle, Wise
---
Weakness
Fearful, Overly trusting, Sad
---
Favorable Colors
Purple Violet Seagreen
---
Favorable Numbers
3 9 12 15 18 24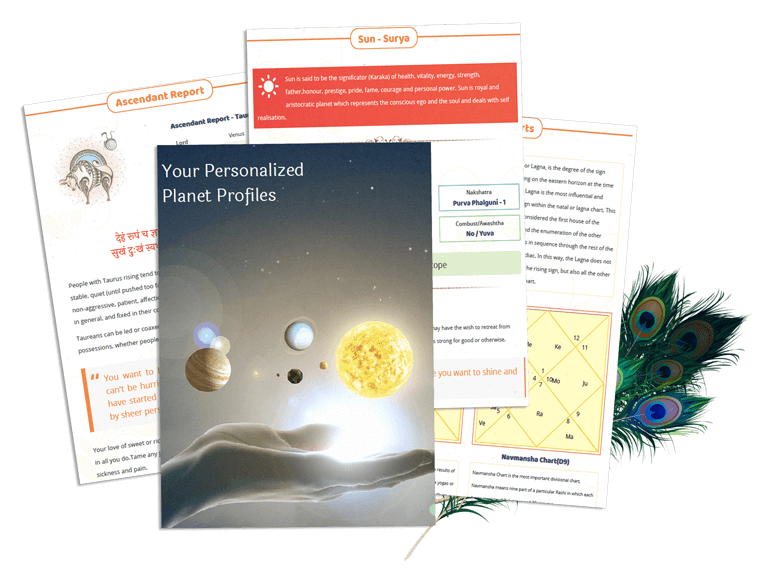 Your personalised horoscope analysis has never been this easier.
Kundli PDF is one of our premium and unique offering with 70 pages of detailed horoscope analysis ranging from dosha analysis, numerological forecasts to detailed predictions and malefic, benefic or yogakaraka aspect of each planet in your kundli.
Know more about Premium Kundli