Pisces Daily Horoscope Prediction
"I absorb the sadness all around. I am all about empathy! I hold the power to feel the pain of others. My sensitivity enables to pursue emotions and needs of people. Here I am, using my energy to be productive and helpful."
17 September 2019 for Pisces

personal life horoscope

Give a random encounter extra consideration today. A potential romance could be on the cards.

profession horoscope

Your biggest goals are all attainable. Keep working hard and the payoff will happen sooner than you think.

health horoscope

Take a careful and considered approach to any new health routine you want to start. Research it carefully to make sure it's right for your body and needs.

emotions horoscope

Understanding what and who impact your mood in positive ways is the best way to evolve.

travel horoscope

Don't be too surprised if plans get cancelled today.

luck horoscope

To get ahead in life you need to work. Luck will follow.

18 September 2019 for Pisces

personal life horoscope

Temptation to reach out to someone is inevitable. But if you can't give them what they want, is it fair?

profession horoscope

Try to be rationale and see things from everyone's point of view. A well-rounded approach will gain you more respect.

health horoscope

Don't buy into false advertising. Research your facts before starting any health program.

emotions horoscope

Be the authentic version of you. You feel a lot calmer.

travel horoscope

Try researching some interesting and different places and get excited for some exciting travel over the next few months.

luck horoscope

Luck can't be bought.

19 September 2019 for Pisces

personal life horoscope

Someone who has always been there for you may like you in more than just a friendly way. It could be time to take things further.

profession horoscope

What do you want for your career, Pisces? You need to figure this out before you can progress.

health horoscope

Good health takes hard work. Put the effort in to see the rewards.

emotions horoscope

Try not to put too much weight on other people to provide your happiness.

travel horoscope

Be prepared for every eventuality when it comes to your travel plans.

luck horoscope

An unexpected change in your day will leave you smiling.
Pisces
February 19 - March 20


---
Characteristic
Sensitive, sensual, emotional, and richly imaginative and creative, Pisceans are the other-worldly dreamers and poets of the zodiac. Deeply affected by the dual nature of their sign — symbolized by the two fishes swimming in opposite directions - Pisceans are often torn between wanting to do something real and valuable in the world (they are often drawn to humanitarian causes and artistic careers) and retreating from the world altogether to the safer harbours of their private worlds of imagination and dreams. This is an enormous pull for Pisceans, and because of its power, they are often prone to extreme nervous tension and even escapism (sometimes into alcohol and drugs), A lack of self- confidence is almost always at the root of a Piscean's inability to get on with the real world, but when this weakness can be overcome, they are found among the finest humanitarians and artists in the world.
---
---
Strength
Compassionate, Artistic, Intuitive, Gentle, Wise
---
Weakness
Fearful, Overly trusting, Sad
---
Favorable Colors
Purple Violet Seagreen
---
Favorable Numbers
3 9 12 15 18 24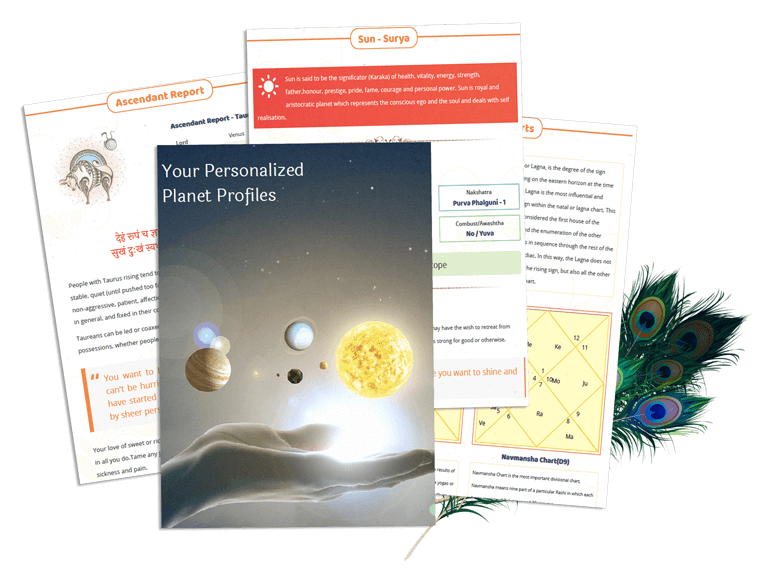 Your personalised horoscope analysis has never been this easier.
Kundli PDF is one of our premium and unique offering with 70 pages of detailed horoscope analysis ranging from dosha analysis, numerological forecasts to detailed predictions and malefic, benefic or yogakaraka aspect of each planet in your kundli.
Know more about Premium Kundli