Cancer Daily Horoscope Prediction
"They call me emotional and sensitive. Being Intuitive and sentimental are my traits. As a Cancer, I'm a real caretaker. Friends and family are life to me! I am sympathetic, I will keep you close to me. Here I am, extremely loyal, highly imaginative and persuasive."
17 September 2021 for Cancer

personal life horoscope

There are no serious relationship issues right now, but it is always good to listen and take things on board, as you may come across as emotionally careless and you don't want that.

profession horoscope

An excellent time for planning, negotiating and finalizing deals as long as you can listen to criticism and work with others. You are full of ideas and plans right now but can be rather self-righteous in your approach, which could be counterproductive.

health horoscope

You can be unforgiving and can dwell on resentful thoughts; your challenge is only to worry about what you have control of and to quickly move on after setbacks or disagreements.

emotions horoscope

You like what you know and you know what you like, you are very set in your ways right now.

travel horoscope

Travel for post-match or post-work celebrations is favored.

luck horoscope

You are lucky in team sports and team activities.

18 September 2021 for Cancer

personal life horoscope

Think about the deeper things which you value about your partner: not the way he/she kisses or even his/her thoughtfulness, maybe it's the ability he/she has to make you feel secure or to bring out sides of you that no one else can.

profession horoscope

Be careful not to waste money; do not make impulse decisions or make sure you at least keep the receipt as you are inclined to get carried away in the moment and may regret some of your purchases later ... even though they will have looked like the best deal ever when you made them.

health horoscope

Burdens and emotional responsibility are also a theme – older relatives or family members may be very demanding – you can deal with these rather calmly and rationally.

emotions horoscope

You are very generous right now, but are you trying to buy approval.

travel horoscope

Travel connected to your children's pleasure is favored.

luck horoscope

Cancer are lucky with creative projects.

19 September 2021 for Cancer

personal life horoscope

You are all about communication and conversation and may not be able to relax enough to enjoy romance, it is more about keeping moving and keeping occupied than chilling. You are looking to show gratitude for relationships and you can be self sacrificing in love.

profession horoscope

Cancer are very restless, you may be bored of the holidays and keen to get started with the new year or perhaps your celebrations will only really kicking be off when everyone gets back to work – you are looking a little further ahead than others.

health horoscope

Watch you do not eat or drink too much as you do not have a good sense of limits now.

emotions horoscope

Your approach to life tends to see saw right now as logic and emotion go to battle on every issue leaving your head spinning and making relaxing and just letting go hard.

travel horoscope

Travel to be with a future spouse is favored.

luck horoscope

Cancer are brought good fortune in terms of marriage proposals thanks to Jupiter.


---
Characteristic
Sensitive (but often "crabby"), imaginatively creative and artistically gifted (but often obsessed with the minutiae of home and the past), Cancerians are among the most challenging of the zodiac children to get to know. Like the crab that symbolizes their sign, they often present a hard, crusty, even impenetrable exterior to the world, and can appear Withdrawn, cool, and reserved. Beneath the shell, however, lies an emotional and sensitive soul with great reserves of compassion and intuition. Like the crab, Cancerians are also tenacious and protective of their home turf and make for fiercely protective and loyal parents and friends.
---
---
Strength
Tenacious, Loyal, Emotional, Sympathetic
---
Weakness
Pessimistic, Suspicious, Manipulative
---
---
Favorable Numbers
2 3 15 20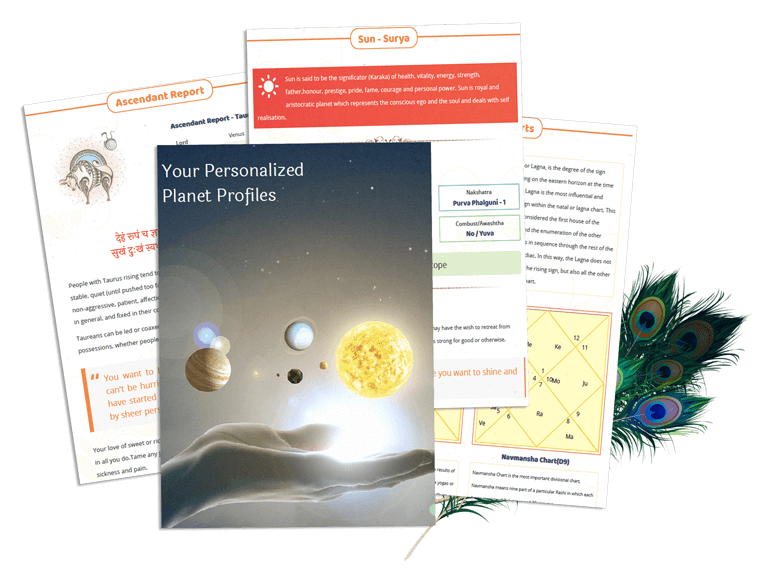 Your personalised horoscope analysis has never been this easier.
Kundli PDF is one of our premium and unique offering with 70 pages of detailed horoscope analysis ranging from dosha analysis, numerological forecasts to detailed predictions and malefic, benefic or yogakaraka aspect of each planet in your kundli.
Know more about Premium Kundli