Cancer Daily Horoscope Prediction
"They call me emotional and sensitive. Being Intuitive and sentimental are my traits. As a Cancer, I'm a real caretaker. Friends and family are life to me! I am sympathetic, I will keep you close to me. Here I am, extremely loyal, highly imaginative and persuasive."
17 April 2021 for Cancer

personal life horoscope

Use your morals to decide what is acceptable or not in love. Don't sway from them, or you will be left disappointed

profession horoscope

Hold your head high in a meeting. You have worked hard and deserve to be there

health horoscope

If you break a good routine, don't let it dampen your spirits. There is always another day.

emotions horoscope

Feel what you need to when you need to. Today might not seem like the easiest day, but it will turn around.

travel horoscope

The New Moon in Virgo means you could find yourself exploring a new area.

luck horoscope

Honesty and a good outlook will bring you more luck than you ever imagined.

18 April 2021 for Cancer

personal life horoscope

Today a fight might make you lose your cool. Take some time to think about things, so you can have a rational discussion.

profession horoscope

Hard work will always get you noticed. Stay on the right path and you will be rewarded.

health horoscope

Don't let what other people are doing influence your path. Focusing too much on other people's lifestyles will only cloud your judgement

emotions horoscope

Be willing to accept that you cannot change how you feel. Everything takes time

travel horoscope

No matter how far you travel, often what you are looking for is right where you need to be.

luck horoscope

Feeling lucky won't always guarantee luck, but it will help you appreciate every day

20 April 2021 for Cancer

personal life horoscope

A certain someone you have your eye on is being hard to read. It might be time to be upfront and honest with them.

profession horoscope

Being open to other people viewpoints will show that you are adaptable. Consider this approach for the week ahead

health horoscope

Always try factor some alone time into your routine. Taking time to be by yourself is the key to a peaceful mind.

emotions horoscope

Holding on to negative feelings will only make them harder to get rid of.

travel horoscope

Friends may take longer to get to, but they will always be worth it.

luck horoscope

Don't be scared to let your light shine, your luck will blossom.


---
Characteristic
Sensitive (but often "crabby"), imaginatively creative and artistically gifted (but often obsessed with the minutiae of home and the past), Cancerians are among the most challenging of the zodiac children to get to know. Like the crab that symbolizes their sign, they often present a hard, crusty, even impenetrable exterior to the world, and can appear Withdrawn, cool, and reserved. Beneath the shell, however, lies an emotional and sensitive soul with great reserves of compassion and intuition. Like the crab, Cancerians are also tenacious and protective of their home turf and make for fiercely protective and loyal parents and friends.
---
---
Strength
Tenacious, Loyal, Emotional, Sympathetic
---
Weakness
Pessimistic, Suspicious, Manipulative
---
---
Favorable Numbers
2 3 15 20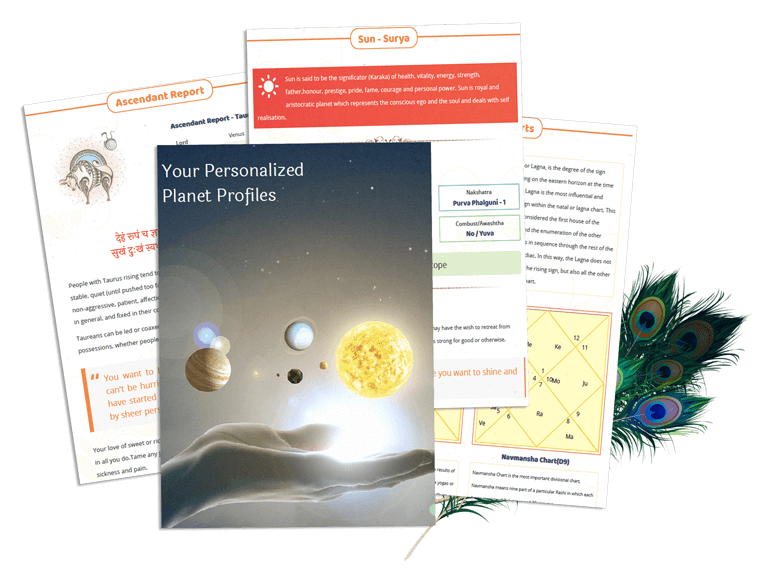 Your personalised horoscope analysis has never been this easier.
Kundli PDF is one of our premium and unique offering with 70 pages of detailed horoscope analysis ranging from dosha analysis, numerological forecasts to detailed predictions and malefic, benefic or yogakaraka aspect of each planet in your kundli.
Know more about Premium Kundli