Cancer Daily Horoscope Prediction
"They call me emotional and sensitive. Being Intuitive and sentimental are my traits. As a Cancer, I'm a real caretaker. Friends and family are life to me! I am sympathetic, I will keep you close to me. Here I am, extremely loyal, highly imaginative and persuasive."
17 September 2019 for Cancer

personal life horoscope

If a relationship is being taken to the next level then enjoy this new phase. Celebrate by going out for a nice meal.

profession horoscope

Have a clear sense of want you want from your job. Do you feel fulfilled or is there room to climb the ladder?

health horoscope

A burst of energy will improve your fitness today and over the next coming weeks. Go get 'em!

emotions horoscope

Have an open mind and try to be sensitive to those around you.

travel horoscope

If travel plans are starting to get a little bit pricey, look at alternative routes.

luck horoscope

Not everyone is as lucky as you, you know.

18 September 2019 for Cancer

personal life horoscope

Have fate in your relationship. It will all work out.

profession horoscope

As Saturn moves its way into your 10th house of career and responsibility you will feel the need to focus on your career more than ever before. This is a good time for progression.

health horoscope

Some days will be challenging. But try to overcome the bumps in the road.

emotions horoscope

Have patience with yourself and deal with all your emotions, good and bad.

travel horoscope

An opportunity to settle in a different country might be on the cards for you.

luck horoscope

Be sceptical of people who don't want the best for you.

19 September 2019 for Cancer

personal life horoscope

Take risks with love. Go on that date or tell someone you're into them. What have you got to lose?

profession horoscope

Your boss may be trying to test you. Don't let this get the better of you.

health horoscope

Healthy living has been important to you this year. If you have been dealing with medical issues positive changes are coming.

emotions horoscope

Understand that not everyone can be positive.

travel horoscope

A chance to be with family on a trip will help you all reconnect.

luck horoscope

Focus on the good parts of your life to remind yourself of how blessed you are.


---
Characteristic
Sensitive (but often "crabby"), imaginatively creative and artistically gifted (but often obsessed with the minutiae of home and the past), Cancerians are among the most challenging of the zodiac children to get to know. Like the crab that symbolizes their sign, they often present a hard, crusty, even impenetrable exterior to the world, and can appear Withdrawn, cool, and reserved. Beneath the shell, however, lies an emotional and sensitive soul with great reserves of compassion and intuition. Like the crab, Cancerians are also tenacious and protective of their home turf and make for fiercely protective and loyal parents and friends.
---
---
Strength
Tenacious, Loyal, Emotional, Sympathetic
---
Weakness
Pessimistic, Suspicious, Manipulative
---
---
Favorable Numbers
2 3 15 20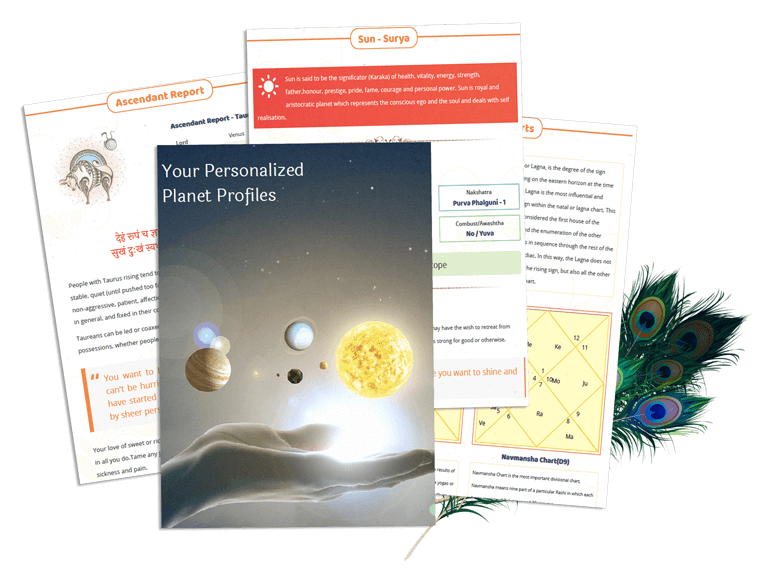 Your personalised horoscope analysis has never been this easier.
Kundli PDF is one of our premium and unique offering with 70 pages of detailed horoscope analysis ranging from dosha analysis, numerological forecasts to detailed predictions and malefic, benefic or yogakaraka aspect of each planet in your kundli.
Know more about Premium Kundli