Cancer Daily Horoscope Prediction
"They call me emotional and sensitive. Being Intuitive and sentimental are my traits. As a Cancer, I'm a real caretaker. Friends and family are life to me! I am sympathetic, I will keep you close to me. Here I am, extremely loyal, highly imaginative and persuasive."
23 January 2021 for Cancer

personal life horoscope

Cancer are often slow to share information about their private life with new lovers and even in relationships it can take them a long time to share deeply personal issues from their past, but today you can promote inner healing by sharing with loved ones.

profession horoscope

Cancerians are not known for basking in glory, you are humble; however today there may be an inclination to gloat which should be avoided as things can change fast.

health horoscope

Cancerians need to take care of digestive health as you are inclined to overdo the vino and fatty food – believe it or not okra is excellent for the Cancerian stomach.

emotions horoscope

You are emotionally intense and more in tune with core desires and needs which can help bring clarity in love.

travel horoscope

Travel by sea or ferry is favoured.

luck horoscope

Cancerians who work for, or apply for positions in government departments are lucky.

24 January 2021 for Cancer

personal life horoscope

It is tough for Cancer to forget any actions which you consider a betrayal on the part of your lover, but you always expect complete forgiveness – it can be seen as double standards and so own up and don't slide away from admitting that you may have been wrong.

profession horoscope

Sticking to your guns and having faith in your instincts and your ability to bring a big project to an end can help you withstand a boss who is breathing down your neck.

health horoscope

Health is a step by step process and often a little bit of what you fancy does you good and so even when you indulge you still manage to keep to your dietary plan overall.

emotions horoscope

With moon in Pisces, you tend to be very generous emotionally, but not that discerning about who you give attention.

travel horoscope

Travel to see progress on a building or project is favoured.

luck horoscope

Jupiter sextile your 2nd house ruler bring luck with money.

25 January 2021 for Cancer

personal life horoscope

Everything come at a cost and so even if you get your own way there will be consequences down the road so weight up the pros and cons carefully.

profession horoscope

You may have to put your own work on standby and help a colleague or you may have to submit to the group will in terms of giving up your own views and direction for the time being.

health horoscope

You need to be careful with hygiene as this is a time when infections and fevers can take hold and escalate and so if you feel something coming on rest, disinfect and slow down.

emotions horoscope

Your connections with others improve, and you can receive more support and encouragement than usual from family and strangers alike.

travel horoscope

Travel is favored for work related presentations and conferences.

luck horoscope

There is luck in the area of entrepreneurship.


---
Characteristic
Sensitive (but often "crabby"), imaginatively creative and artistically gifted (but often obsessed with the minutiae of home and the past), Cancerians are among the most challenging of the zodiac children to get to know. Like the crab that symbolizes their sign, they often present a hard, crusty, even impenetrable exterior to the world, and can appear Withdrawn, cool, and reserved. Beneath the shell, however, lies an emotional and sensitive soul with great reserves of compassion and intuition. Like the crab, Cancerians are also tenacious and protective of their home turf and make for fiercely protective and loyal parents and friends.
---
---
Strength
Tenacious, Loyal, Emotional, Sympathetic
---
Weakness
Pessimistic, Suspicious, Manipulative
---
---
Favorable Numbers
2 3 15 20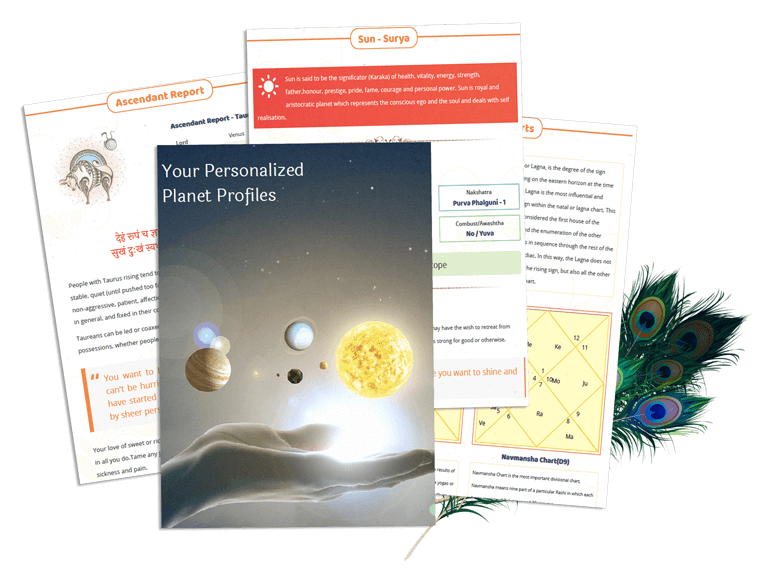 Your personalised horoscope analysis has never been this easier.
Kundli PDF is one of our premium and unique offering with 70 pages of detailed horoscope analysis ranging from dosha analysis, numerological forecasts to detailed predictions and malefic, benefic or yogakaraka aspect of each planet in your kundli.
Know more about Premium Kundli