Capricorn Daily Horoscope Prediction
"I am all about ambitious power, position and money! I Capricorn, have a competitive nature. I possess the tendency to climb mountains to achieve what I want. Here I stand, Independent, determined and patient. Loyal, humble and hard working, that's who I am."
17 September 2019 for Capricorn

personal life horoscope

As your ruling planet, Saturn comes back home it's time for closure. Say goodbye to old loves, but don't rush into welcoming new ones yet.

profession horoscope

You may be feeling frustrated with your work lately. Take stock and know this is all part of the process.

health horoscope

Align what you want and what you need to do to get there. This will pave a realistic path.

emotions horoscope

Emotions you may have swept under the rug are all coming to the forefront now. This is a time for personal healing.

travel horoscope

Seeing new places will help fuel your creativity.

luck horoscope

Life can't be an easy ride all the time, but you know this.

18 September 2019 for Capricorn

personal life horoscope

Express your admiration for someone. You'll be pleasantly surprised by the outcome of the conversation.

profession horoscope

It might be time to make some changes in your career. It's been a long time coming.

health horoscope

Now is the time to try kick those nasty habits that have been lingering. It won't be easy, but the long-term gains are massive.

emotions horoscope

Don't shy away from your emotions. Be willing to surrender completely.

travel horoscope

A trip will bring you closer to someone you didn't expect.

luck horoscope

Keep your ideas close, or someone might try to steal them.

19 September 2019 for Capricorn

personal life horoscope

Being aware of how you make other people feel is a wonderful gift. If you've let a partner or love interest down then show them you understand and do your best to make it up to them.

profession horoscope

If you are finding it difficult to manage your finances, it may be time to pick up some other work. You are talented enough to secure any job you go for.

health horoscope

If you've found a workout that you love, stick with it. Finding what's right for your body is a good way to stay on track.

emotions horoscope

Feeling confused about your emotions? Don't let impact other relationships in your life.

travel horoscope

A work-related travel opportunity arises that is too good to be passed upon.

luck horoscope

Each day will have its challenges but you can overcome them.
Capricorn
December 22 - January 19


---
Characteristic
The Goat that symbolizes Capricorn was traditionally CleplCt€Cl as half-goat, half-fish. This complex dual nature is echoed in the Capricornian personality, one of the most complex characters in all the zodiac. They have two distinct natures. One side of the sign is ambitious, hard-working, and enterprising. This Capricornian is highly motivated, loves life, and is able to set high but achievable goals. The other side of the Capricornian, however, is lost in a world of real or imagined obstacles to success; further, this Capricornian often cannot find the motivation to take action and challenge those obstacles. Even successful Capricomiars have a tendency to whine and complain about imagined burdens. These darker tendencies are not eased by Capricornians' introverted natures and love of solitude.
---
---
Strength
Responsible, Disciplined, Self-control
---
Weakness
Know-it-all, Unforgiving, Condescending
---
Favorable Colors
Brown Black
---
Favorable Numbers
4 8 13 22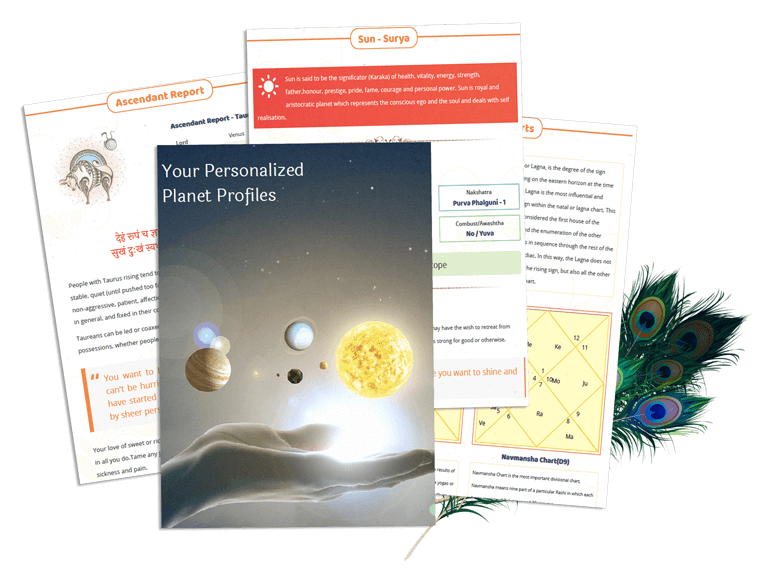 Your personalised horoscope analysis has never been this easier.
Kundli PDF is one of our premium and unique offering with 70 pages of detailed horoscope analysis ranging from dosha analysis, numerological forecasts to detailed predictions and malefic, benefic or yogakaraka aspect of each planet in your kundli.
Know more about Premium Kundli