Scorpio Daily Horoscope Prediction
"I am mysterious and secretive in my ways. Cleverness and perceptiveness are my nature. Me Scorpio, I am highly suspicious, ambitious, focused and competitive. I may experience extreme highs and lows but you feel deeply connected and protected around me."
17 July 2019 for Scorpio

personal life horoscope

It's obvious to everyone around you that you have a bit of a crush. If you're denying it, it might be time to acknowledge the feelings. What have you got to lose?

profession horoscope

Double check all of your work today, a small mistake could create a bigger problem if it goes unnoticed.

health horoscope

Energy levels might be at an all top low for you this week. Rest when you can and don't push yourself any more than you need to.

emotions horoscope

Accepting criticism and learning from it rather than taking it to heart is very important today.

travel horoscope

Exciting travel plans have made you nervous. Just be sure to plan for every eventuality.

luck horoscope

Utilising every part of your brain can let you see things in different ways and bring new lucky opportunities.

18 July 2019 for Scorpio

personal life horoscope

Dating apps might be making you feel exhausted and hopeless. If they are, take a break and put yourself out there in different ways.

profession horoscope

Technical difficulties could put a big plan on halt. It will give you some extra time for review. Avoid lavish spending ahead of a big weekend.

health horoscope

Take your vitamins! Neglecting your bodies needs will create problems down the line.

emotions horoscope

What's important to you, might not be so important to others. Don't take it personally.

travel horoscope

Travel abroad will bring new meaning and understanding to your life right now.

luck horoscope

Creativity and letting your creative expression shine will make you feel incredibly lucky today.

19 July 2019 for Scorpio

personal life

You often avoid revealing your true feelings for fear of rejection. But this tactic will get you nowhere. If you never say how you feel, you might lose the person you want

profession

If you have been losing your patience in work, talking through the reasons why is the only way that things can move forward.

health

Spending time analysing areas in your life that may be negatively impacting your health is a difficult task. However, it will give also give you a chance to objectively make slight changes that can improve your well-being

emotions

Suppressing feelings won't make them go away. Be careful of this.

travel

With Mercury re-entering Cancer today, travel of any kind will be difficult.

luck

You tend to think the world is against you at time. You need to shift this outlook.
Scorpio
October 23 - November 21


---
Characteristic
Mysterious Scorpios are deep-thinking, private, intense, very sexual, and always a step removed from the world. Because of their intensity and an obsessive need for privacy, there is often an aura of "danger" around Scorpios — a trait they share, of course, with the deadly Scorpion that symbolizes their sign. But this is only one facet of the rather complex Scorpio personality. They can be driven workers and achievers with the ability to overcome enormously challenging obstacles. They also value their intimate relationships and their friendships quite highly and Work hard to encourage the best in those they love.
---
---
Strength
Resourceful, Brave, A True Friend
---
Weakness
Distrusting, Jealous, Violent
---
Favorable Colors
Red Rust
---
Favorable Numbers
8 11 18 22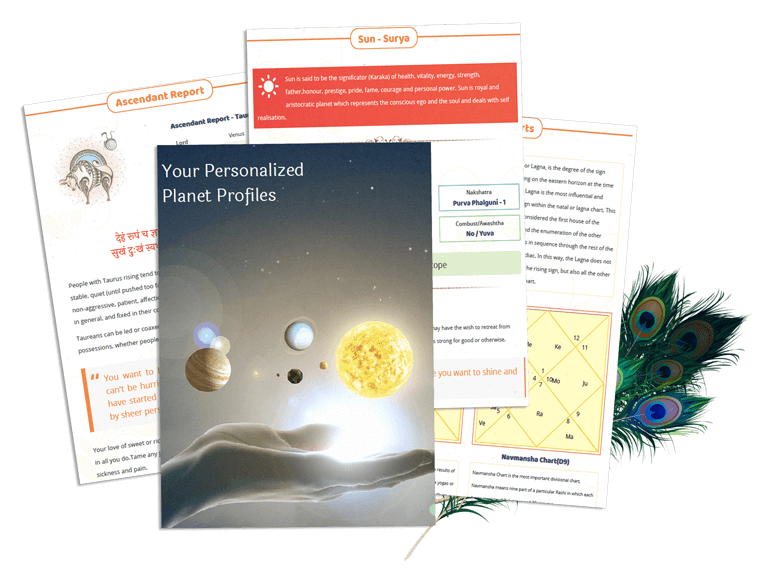 Your personalised horoscope analysis has never been this easier.
Kundli PDF is one of our premium and unique offering with 70 pages of detailed horoscope analysis ranging from dosha analysis, numerological forecasts to detailed predictions and malefic, benefic or yogakaraka aspect of each planet in your kundli.
Know more about Premium Kundli