Scorpio Daily Horoscope Prediction
"I am mysterious and secretive in my ways. Cleverness and perceptiveness are my nature. Me Scorpio, I am highly suspicious, ambitious, focused and competitive. I may experience extreme highs and lows but you feel deeply connected and protected around me."
17 September 2019 for Scorpio

personal life horoscope

An unexpected fling is exactly what you didn't know you needed. Enjoy it!

profession horoscope

Your finances have been good for a while. But don't get too comfortable, career changes and decisions might leave you short.

health horoscope

Being on the move so much makes it hard to maintain a healthy diet. Try as best you can to eat non-processed foods.

emotions horoscope

Hell hath no fury as a Scorpio scorned. Watch that temper!

travel horoscope

You may be looking for a sense of familiarity when you travel now. Do whatever makes you happy.

luck horoscope

You bring joy to those around you.

18 September 2019 for Scorpio

personal life horoscope

You can't seem to get your mind off someone. Text them!

profession horoscope

Don't be afraid to sell yourself. You are well able to take on any task you've been given.

health horoscope

Try joining a fitness club or getting a personal trainer. If you are not feeling the gym then this is a great way to get back into it.

emotions horoscope

Your happiness can be felt by those around you, and it's making everyone smile.

travel horoscope

It's OK to dream about new places and adventures, but don't let dreams overrule reality.

luck horoscope

Today might test you, but it won't get you down.

19 September 2019 for Scorpio

personal life

Someone you didn't expect to get on so well with has shocked you. Could you be the perfect match?

profession

There's no rest for the wicked and unfortunately you are going to be pretty busy over the next while. But don't worry, the busy period is paving your way to success.

health

Have an open mind and research alternative ways of living and healthy practices. You might find something that suits you perfectly.

emotions

Be supportive of other people and they will always be there for you when you need them.

travel

Take the long route and enjoy the view.

luck

Luck can't be bought.
Scorpio
October 23 - November 21


---
Characteristic
Mysterious Scorpios are deep-thinking, private, intense, very sexual, and always a step removed from the world. Because of their intensity and an obsessive need for privacy, there is often an aura of "danger" around Scorpios — a trait they share, of course, with the deadly Scorpion that symbolizes their sign. But this is only one facet of the rather complex Scorpio personality. They can be driven workers and achievers with the ability to overcome enormously challenging obstacles. They also value their intimate relationships and their friendships quite highly and Work hard to encourage the best in those they love.
---
---
Strength
Resourceful, Brave, A True Friend
---
Weakness
Distrusting, Jealous, Violent
---
Favorable Colors
Red Rust
---
Favorable Numbers
8 11 18 22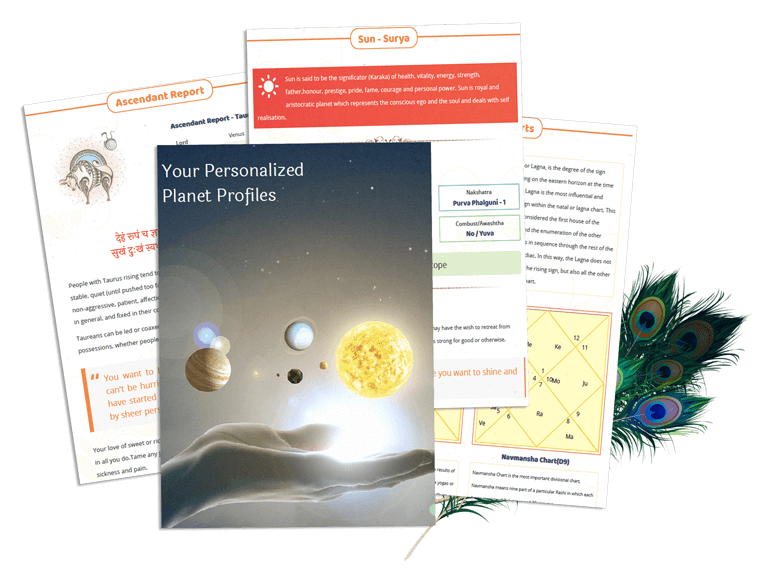 Your personalised horoscope analysis has never been this easier.
Kundli PDF is one of our premium and unique offering with 70 pages of detailed horoscope analysis ranging from dosha analysis, numerological forecasts to detailed predictions and malefic, benefic or yogakaraka aspect of each planet in your kundli.
Know more about Premium Kundli