Libra Daily Horoscope Prediction
"I Libra, specialize in balancing of relationship. Charming, harmonious and polished are my traits. The only peacemaker you'll know. Here I am, socially inclined and hold a strong sense of justice. I govern partnerships, relations and close associations. "
17 September 2019 for Libra

personal life horoscope

Love can be scary. But it's also incredibly exciting; let yourself fall.

profession horoscope

You have been working hard. But don't overdo it.

health horoscope

Access how you have been feeling lately and try to adjust your diet and exercise plan accordingly. A few small changes will help kick start energy levels.

emotions horoscope

Never feel like your feelings are any less valid than anyone else's.

travel horoscope

Go somewhere unexpected and learn a lot about yourself.

luck horoscope

You can't be lucky all the time.

18 September 2019 for Libra

personal life horoscope

A stranger will give you the lift you needed today. Spark will fly.

profession horoscope

Manage expectations in the workplace today. Be mindful of your money, also.

health horoscope

Don't take health advice from people who aren't qualified to give it. Always carefully research before starting any new health program.

emotions horoscope

Feelings might feel all over the place, thanks to fiery Mars.

travel horoscope

A difference of opinions could make travel tricky today.

luck horoscope

Use any opportunity you can to be grateful for life.

19 September 2019 for Libra

personal life horoscope

Stimulating conversation will pique your interest in someone today. How refreshing!

profession horoscope

It might be hectic in work this month, Libra. Stay driven and you'll get the praise you deserve.

health horoscope

If your routine is getting boring, spice it up! Try HITT workouts or something fast and fun.

emotions horoscope

It's easy to confuse feelings. Just take a step back and try identifying them as best you can.

travel horoscope

It's time to take stock and spend some time at home.

luck horoscope

Your luck won't run out.
Libra
September 23 - October 10


---
Characteristic
Outgoing, warm-hearted, and very sociable, Librans like the Scales that represent the sign, are frequently concerned with achieving balance, harmony, peace, and justice in the people and in the world around themi And they are well-equipped to do that with their enormous reserves of charm, cleverness, frankness, persuasion, and easy communication. They tend at times to be too facile and laid-back and have earned an undeserved reputation for laziness. In fact, they can be hard workers and are often leaders in their fields. They are especially good at any "peace-keeping" types of jobs, because they have the remarkable gift of easily seeing (and reconciling) both sides of an issue.
---
---
Strength
Cooperative, Diplomatic, Gracious, Fair-Minded
---
Weakness
Indecisive, Avoids Confrontations, Self-pity
---
Favorable Colors
Pink Green
---
Favorable Numbers
4 6 13 15 24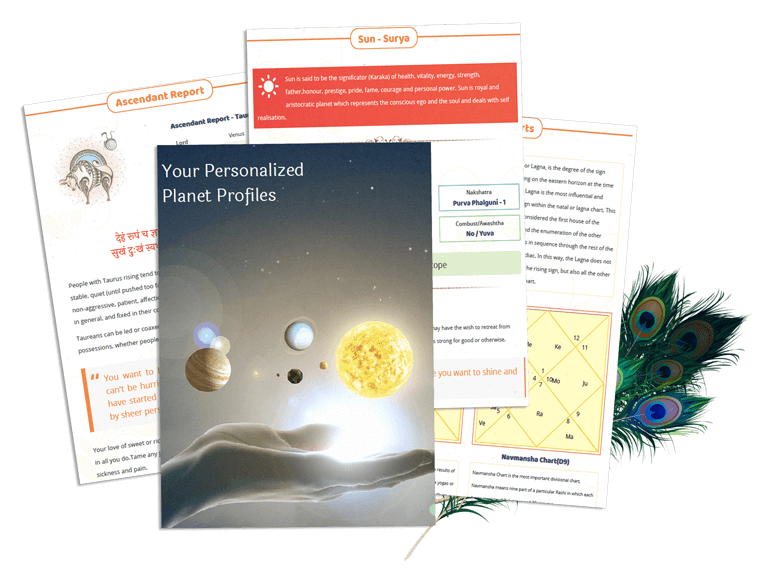 Your personalised horoscope analysis has never been this easier.
Kundli PDF is one of our premium and unique offering with 70 pages of detailed horoscope analysis ranging from dosha analysis, numerological forecasts to detailed predictions and malefic, benefic or yogakaraka aspect of each planet in your kundli.
Know more about Premium Kundli