Holi 2020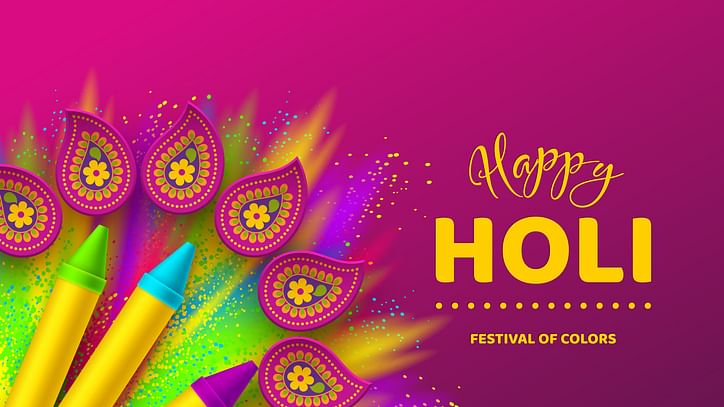 Holi, the "festival of colors" is celebrated with great energy and enthusiasm throughout the country. Children eagerly wait for this day to come and so do the elders. Running around, dancing, singing and spreading happiness is the main motto of this festival. Everyone has colors on their faces, hands, legs and on the roads, and this beautiful sight is seen only during this festival.
"Bura na mano Holi hai. The time that enemies shake hands and forget their past and children have the chance to get away from all their mischiefs is Holi. There is no difference between Hindus, Muslims or any other caste, as this is the one festival that is celebrated by all.
Holi is celebrated on the last full moon of the Phalgun month ( a month in the Hindu calendar), which mostly comes either in the end of February or the beginning of March. This year Holi will be played on 10th March 2020 and the festivities will begin on the night of 9th March 2020.
Significance
Holi helps in strengthening the social relations. This festival spreads happiness everywhere as this is the festival where people are bound to come out of their house and play with others. Holi is a time of enjoyment for the farmers as well, as the fields are ready to be cut. During Holi, the fields are in full bloom and the farmers are ready to harvest their fields.
Holi marks the end of the gruesome winter weather; which is assumed as a dark and dull phase and marks the beginning of the pleasant spring time that's filled with happiness and joy. There is huge significance behind the celebration of Holi during the end of the winter season. It is said, that people become dull and lazy during the transition of the weather from winter to summer. So, on this day, everyone dances, sings various regional and Bollywood songs, as music is an integral part of this festival. It revives, refreshes and energizes everyone.
Holi is celebrated with great pomp and loud music. Throwing colors and singing songs are a must on this day. There is no differentiation between the rich and the poor people as everyone celebrates it together. It is also said that on this day people leave their enmity behind and hug their enemies, all the while exchanging colors and well-wishes.
Colors and water play a huge role during this festival. People apply colors on the faces of their friends and relatives. This is the most joyous part of the festival. Women apply tilak on the foreheads of their elders and receive blessings from them.
Legends
Holi is not only a festival of playing with colors, but is also a festival that has various mythological stories attached with it. The legends have a same ending to it, that is, the good shall always overcome the evil that is present.
A legend is, all the children in a small town chased an ogress called Dhundi from their village by shouting curses and abuses at her. They played pranks on her and ultimately kicked her out of their village. So on this day, children get away by playing mischiefs and pranks on others.
Another legend is that, on this day Lord-Shiva opened his third eye and killed Kamadeva, the God of Love by burning him. So, on this day the devotees offer mangoes and sandalwood paste to Lord Kamadeva.
The most famous legend is that of Krishna and Radha. It celebrates their ever-lasting love. Krishna used to play pranks on all the Gopis by throwing colors on them. Holi is celebrated with great enthusiasm in the streets of Mathura where everyone throws colors and flowers.
Celebration
The celebration of Holi begins a fortnight before when a large bonfire is placed. This bonfire is a mark of the evil leaving our lives. This is called 'Holika Dahan'. There is a legend behind this that a devil Holika was burned to death while trying to kill Prahlad. People gather around this fire and celebrate the end of all the negativity from their life. They sing, dance and take rounds around the fire to remove all the undesirable energy from their lives.
Drinking bhang is one of the most famous traditions on this day. People, who even avoid drinking it throughout the year, consume it on this day and allow themselves to enjoy this festival to its maximum capacity. All the social barriers are broken on this day and everyone celebrates it. It is not only the festival of a few religions, but everyone celebrates it.
Water balloons and water guns are no not a threat on this day. Small kids start preparing for this festival from at least a week before the actual date.
During the evening, people visit their relatives and friends and spend some time with them. They exchange sweets, greetings and gifts that are specially made for this festival.
Holi is celebrated all over the world. It is not only celebrated by the Indians, but even foreigners celebrate this festival with great zest and enjoyment. They apply colors and play with water. Holi is celebrated in Bangladesh, where even though the number of Muslims is high, everyone celebrates it. Holi is celebrated in Nepal, Australia, Canada, South-Africa to name a few.
Holi is celebrated in different ways in different parts of India. Every part of the country, has a unique and different way of celebrating Holi.
Holi is called 'Rang-panchami' in Maharashtra. In Mathura, Holi is celebrated for more than a week. People celebrate this festival with not only colors but also with flowers and lathis. It is also called as "Lathmaar Holi". There is a tradition that on this day women use lathi and hit the men folk with it.
In Bengal it is called as "Basant Utsav". They celebrate it by welcoming the arrival of the spring and do it by chanting hymns in the environment of Shantinektan.
"Hola Mohalla" is celebrated on a day after Holi in Punjab. Langar is organized during this day and they all celebrate it through martial arts and by engaging themselves in small playful fights.
Mantras & Prayers
1. "Aing Hreeng Aing Kleeng Kleeng Hum Hum Kreeng Kreeng Phat"

"

अंग

ह्रींग

अंग

क्लींग

क्लींग

हम

हम

क्रींग

क्रींग

पहात

"

2. "Naasai roga harai saba piraa; japat nirantara hanumat veera."


"

नासै रोग हरै सब पीरा

|

जपत निरंतर हनुमत बीरा

||

3. "Om Har Har Tripurhar Bhawani Bala"

"

ॐ

हर

हर

त्रिपुरहर

भवानी

बल

"

4. "Om Namah Kamaye Sawajan Priyaye

Sarvajan Sammohaye Jawal Jawal Prajawwal

Prajawalye Sarva Janasya Hriday Mam Vansh

Kuru Kuru Swaha"